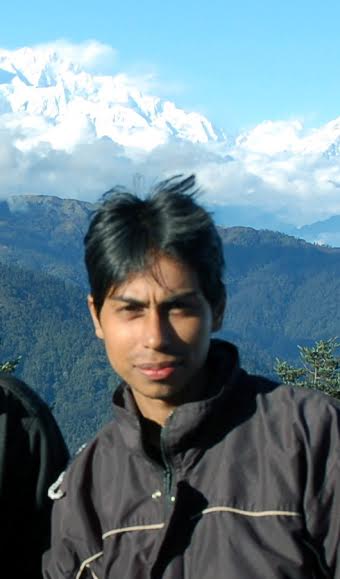 Contact:
Department of Computer Science and Engineering
Bangladesh University of Engineering and Technology
Dhaka-1000, Bangladesh
Email:
atif AT cse DOT buet DOT ac DOT bd
Telephone:
Office:
Cell:
Residence:
Dr. Atif Hasan Rahman (আতিফ হাসান রহমান)

Associate Professor
Research Area:

Bioinformatics and Computational Biology
Research Interest:

Genomics
Academic Background:

Ph.D. in Computer Science, 2015
University of California, Berkeley
B.Sc.Engg. in Computer Science and Engineering, 2007
Bangladesh University of Engineering and Technology
Selected Publications:
Tasfia Zahin, Md. Hasin Abrar, Mizanur Rahman, Tahrina Tasnim, Md. Shamsuzzoha Bayzid and Atif Rahman, An Alignment-free Method for Phylogeny Estimation using Maximum Likelihood.
bioRxiv
(2019): 875526.
Mahmudur Rahman Hera, Amatur Rahman and Atif Rahman, kRISP-meR: A Reference-free Guide-RNA Design Tool for CRISPR/Cas9.
bioRxiv
(2019): 869115.
Atif Rahman and Lior Pachter, SWALO: scaffolding with assembly likelihood optimization.
bioRxiv
(2016): 081786.
Atif Rahman, Ingilief Hallgrimsdottir, Michael B. Eisen and Lior Pachter, Association mapping from sequencing reads using k-mers.
eLife
7 (2018): e32920.
Atif Rahman and Lior Pachter, CGAL: computing genome assembly likelihoods,
Genome Biology
, 14 (2013), R8.
Atif Rahman, Swakkhar Shatabda, and Masud Hasan. An approximation algorithm for sorting by reversals and transpositions.
Journal of Discrete Algorithms
, 6(3):449–457, Elsevier, 2008.
Journal Papers:
| | |
| --- | --- |
| 1. | Das Sarkar Snigdha Sarathi and Shanto Subangkar Karmaker and Rahman Masum and Islam Md Saiful and Rahman Atif Hasan and Masud Mohammad M and Ali Mohammed Eunus, BayesBeat: Reliable Atrial Fibrillation Detection from Noisy Photoplethysmography Data, Proceedings of the ACM on Interactive Mobile Wearable and Ubiquitous Technologies, 6, 1--21, 2022. |
| 2. | Rahman Atif and Pachter Lior, SWALO: scaffolding with assembly likelihood optimization, Nucleic acids research, 49, e117--e117, 2021. |
| 3. | Mehrab Zakaria and Mobin Jaiaid and Tahmid Ibrahim Asadullah and Rahman Atif, Efficient association mapping from k-mers—An application in finding sex-specific sequences, Plos one, 16, e0245058, 2021. |
| 4. | Mehrab Zakaria and Mobin Jaiaid and Tahmid Ibrahim Asadullah and Pachter Lior and Rahman Atif, Reference-free Association Mapping from Sequencing Reads Using k-mers, Bio-protocol, 10, e3815--e3815, 2020. |
| 5. | Nayeem Muhammad Ali and Bayzid Md Shamsuzzoha and Rahman Atif Hasan and Shahriyar Rifat and Rahman M Sohel, Multiobjective Formulation of Multiple Sequence Alignment for Phylogeny Inference, IEEE Transactions on Cybernetics, 2020. |
| 6. | A. H. Rahman, Ingilief Hallgrimsdottir, Michael Eisen, Lior Pachter, Association mapping from sequencing reads using k-mers, eLife, 7, 2018. |
| 7. | A. H. Rahman, Lior Pachter, CGAL: computing genome assembly likelihoods, Genome Biology, 14, 2013. |
| 8. | A. H. Rahman, Swakkhar Shatabda, Masud Hasan, An approximation algorithm for sorting by reversals and transpositions, Journal of Discrete Algorithms, 6, 449-457, 2008. |
Conference Papers: