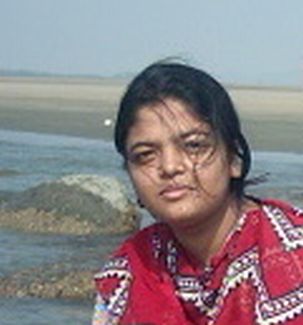 Contact:
Room No. 412Department of Computer Science & EngineeringBangladesh University of Engineering & TechnologyECE Building, West PalashiDhaka-1000, Bangladesh.
Email:
nazeen@webmail.buet.ac.bd, nazeen.777@gmail.com
Telephone:
Office:
Cell: 880-1715-509799
Residence:
Web page:
http://sites.google.com/site/snazeen
Sumaiya Nazeen (সুমাইয়া নাজিন)

Lecturer
Research Area:

Research Interest:

Algorithms and Data Mining in Computational Biology and Bioinformatics Comparative Genomics Stringology Evolutionary Design and Optimization Techniques
Academic Background:

B.Sc. Engineering in Computer Science & Engineering, 2011Bangladesh University of Engineering and Technology, Dhaka-1000, Bangladesh. H.S.C (Science), 2005Holy Cross College, Dhaka-1215, Bangladesh. S.S.C (Science), 2003Mohammadpur Preparatory & Girls' High School, Dhaka-1207, Bangladesh.
Selected Publications:
Journal Publications
[1] Sumaiya Nazeen
, M. Sohel Rahman, and Rezwana Reaz,
"Indeterminate String Inference Algorithms"
, Journal of Discrete Algorithms, 10 (2012) 23-34
Conference Publications
[1]
Tanaeem M. Moosa,
Sumaiya Nazeen
, M. Sohel Rahman, and Rezwana Reaz,
"Linear Time Inference of Strings from Cover Arrays using a Binary Alphabet"
. Md. S. Rahman and S.-i. Nakano (eds.) WALCOM 2012. LNCS, vol. 7157, pp. 160-172. Springer, Heidelberg (2012).
Journal Papers:
| | |
| --- | --- |
| 1. | T.M. Moosa, Sumaiya Nazeen, M. Sohel Rahman, Rezwana Reaz Rimpi, Inferring Strings from Cover Arrays, Discrete Mathematics, Algorithms and Applications (DMAA), 5, 2013. |
| 2. | Sumaiya Nazeen, M. Sohel Rahman, Rezwana Reaz Rimpi, Indeterminate string inference algorithms, Journal of Discrete Algorithms, 10, 23-34, 2012. |
Conference Papers:
| | |
| --- | --- |
| 1. | Sumaiya Nazeen, Tanaeem M Moosa, M. Sohel Rahman, Rezwana Reaz Rimpi, Linear Time Inference of Strings from Cover Arrays using a Binary Alphabet, WALCOM, 160-172, 2012. |