Highly Commended at The Undergraduate Awards: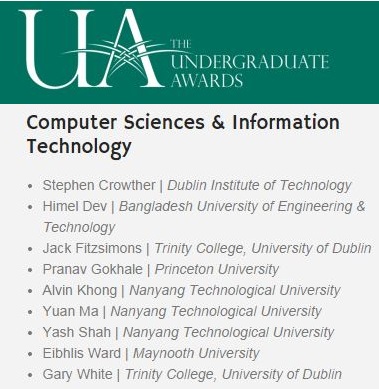 Himel Dev, currently serving as a lecturer in the Department of CSE, BUET, has been
highly commended
at The Undergraduate Awards. His essay, 'User Interaction Based Community Detection in Online Social Networks', has been highly commended in the Computer Sciences & Information Technology category of The Undergraduate Awards 2014. The essay rates in the top 10% of submissions to this year's programme, which received 4,792 submissions from undergraduate students around the world.
About The Undergraduate Awards:
Cited as the ultimate champion for high potential undergraduates,
The Undergraduate Awards
is the world's only pan-discipline academic awards programme that identifies leading creative thinkers through their undergraduate coursework. It aims to celebrate and support the world's brightest and most innovative undergraduate students by recognising their best coursework and projects. The programme has been under the patronage of the President of Ireland, Michael D. Higgins, since February 2012.
About the Essay:
The submitted essay 'User Interaction Based Community Detection in Online Social Networks' is a part of Himel Dev's B.Sc. thesis. The work has been done under the supervision of Dr. Mohammed Eunus Ali and Dr. Tanzima Hashem. The work presents a novel community detection technique that considers the structure of the social network and interactions among the users while detecting communities in online social networks. More details about the work can be found
here
.
Posted on: [2014-09-09]