BUET Excels in DIPC 2007 Programming Contest: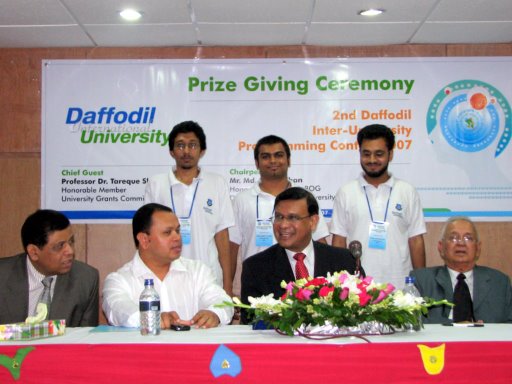 A nationwide programming contest has been organized by Daffodil International University on July 19-20, 2007. A total of 63 teams from 30 universities have participated in the contest. Once again BUET teams have shown their excellence in programming skill in the contest. BUET teams ranked 1st, 2nd , 3rd, 8th and 14th.
BUET BlackHats has become the champion with a outstanding performance, solving five out of nine problems. BUET BlackHats team members are Shihabur Rahman, Tanaeem Muhammad Moosa and Mohammad Minhazul Alam.
BUET Asterix team, consisting of Md. Tanvir Al-Amin, Ishtiak Zaman and Tasnim Imran Sunny has become the 2nd solving four problems.
BUET JudgeCrasher team, consisting of Sabbir Yousuf Sanny, Mahbubul Hasan and Shahriar Rouf has become the 3rd solving four problems.
BUET Emerging team, consisting of Khobaib Chowdhury, Ashik Zinnat Khan and S. M. Shabab Hossain has become the 8th solving three problems.
BUET Brute Force team, consisting of Syed Ishtiaque Ahmed, Muntasir Mashuq and Anindya Das has become the 14th solving three problems.
Official ranklist is available here:
http://daffodilvarsity.edu.bd/dipc07/
Posted on: [2007-07-21]