CSE Welcomes New Students: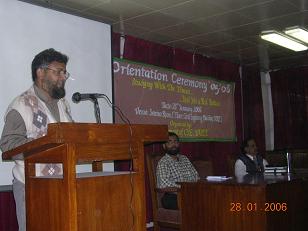 The Orientation Ceremony for the incoming undergraduate students was held at the Seminar Room of Civil Building on January 28, 2006. The ceremony was presided over Professor Muhammad Masroor Ali, Head of the CSE Department. Prof Md Shamsul Alam and Prof Md Abul Kashem Mia, two former heads of the department, were also present in the ceremony. At first the new students introduced themselves. Then two incoming students gave speech on behalf of all the newcomers. After that a presenation highlighting the history and the glorious achievements of the department was demonstrated. The presentation was prepared by Imranul Hoque, a lecturer of the department.
Prof. M. Masroor Ali in his speech welcomed the new students to the department and highlighted the friendly nature of the teachers of the department. He expressed his hope that the new students would be able to enhance the reputation of the department by their merit and innovation.
Posted on: [2006-01-29]