BUET Students are going to participate in ACM-ICPC World Finals 11 years in a row: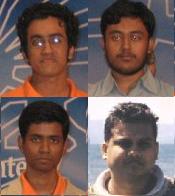 ACM-ICPC Asia Region Dhaka site champion team "BUET Sprinter" is leaving Dhaka for Banff, Alberta, Canada to participate ACM ICPC World Finals. ACM or Association for Computing Machinery is the world's first and largest scientific and educational computing society. International Collegiate Programming Contest or ICPC operates under the auspices of ACM is the top most programming contest of the world for university and college students. From 6,700 teams representing 1,821 universities in 83 countries competing at 213 sites from September to December 2007 world-wide, one hundred teams have advanced to the World Finals. Awards, prizes, scholarships, and bragging rights will be at stake for some of the world's finest university students of the computing sciences and engineering.
The 2008 ACM-ICPC World Finals will be held April 6-10, 2008, at the Fairmont Banff Springs Hotel in Alberta, Canada, hosted by the University of Alberta. BUET Sprinter team consists of three contestants: Sabbir Yousuf Sanny, Md. Mahbubul Hasan, and Shahriar Rouf and one coach Dr. Md. Humayun Kabir. North American Bangladeshi Islamic Community (NABIC) has sponsored four Dhaka-Calgary-Dhaka air-tickets for the team. Computer Science and Engineering or CSE students of BUET are participating in the World Finals every year since 1998 and NABIC is regularly sponsoring the air tickets for BUET ACM ICPC World Finalist team.
Posted on: [2008-03-31]