CSE Festival – 2008: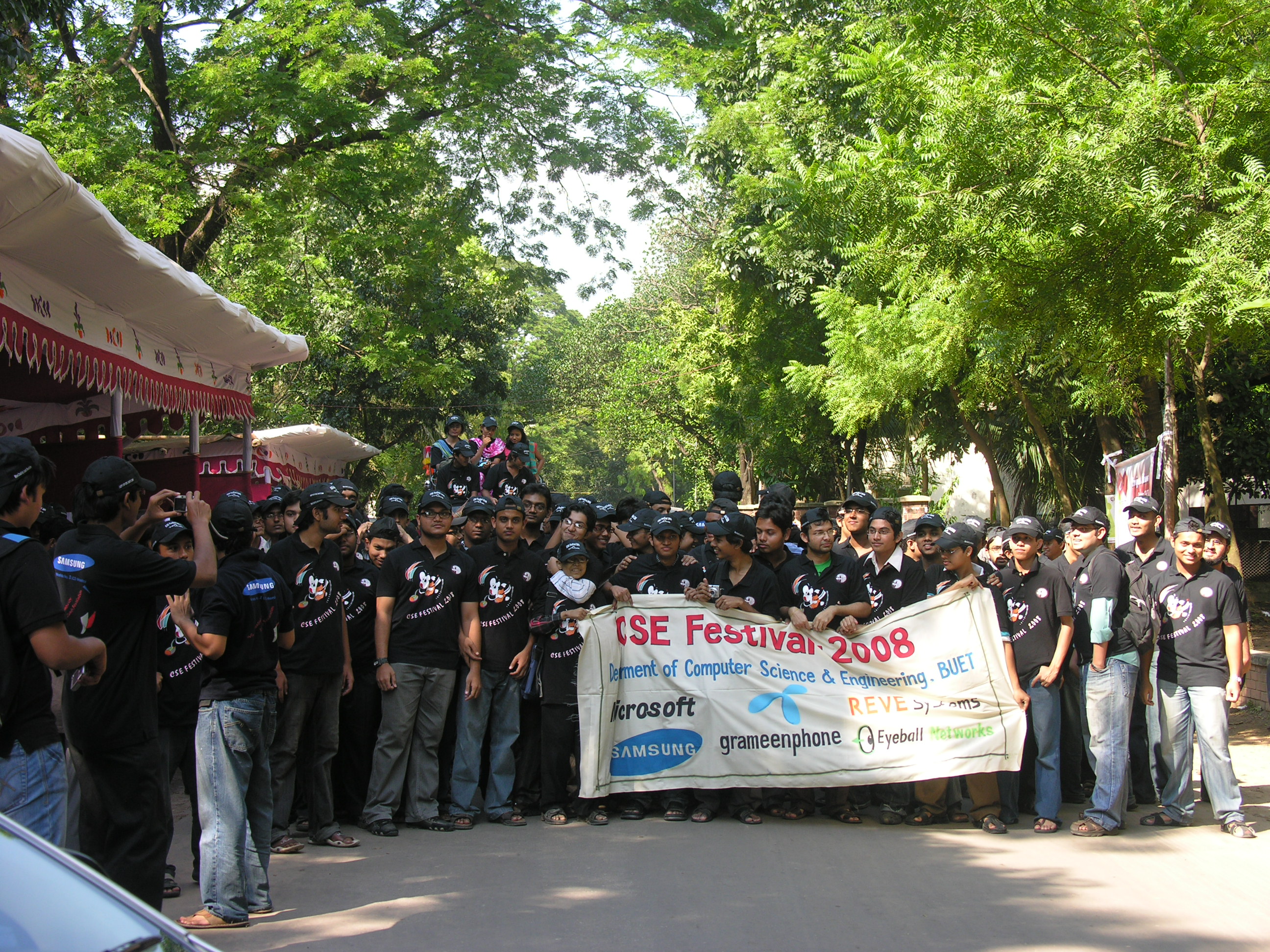 The annual CSE Festival 2008 of Computer Science and Engineering (CSE) department of BUET has ended with a colorful and rich cultural night in BUET Auditorium on October 30, 2008. Music, dance, drama, comedy, and many more cultural items were brilliantly performed by CSE students. A jam packed audience of students, teachers, and guests enjoyed every bits and bytes of the cultural night. The cultural night was sponsored by Reve Systems.
A prize giving ceremony for Inter-University Math Olympiad, National Collegiate Programming Contest (NCPC), and Inter-University Project show was held just before the cultural night. Professor Dr. A. M. M. Safiullah, honorable vice chancellor of BUET, was the chief guest in the prize giving ceremony. Professor Dr. Md. Saidur Rahman, Head CSE Department of BUET has presided over the prize giving ceremony. Emadul Amin, Director Human Resource of Grameenphone, Feroz Mahmud, Country Manager of Microsoft Bangladesh, Dr. Shahadat Khan, CTO of Eyeball Networks, and Mahfuzur Rahman of IndexIT were present and handed over the prizes to the winners as the guest. Dr. Md. Humayun Kabir, Coordinator of CSE Festival 2008 and Associate Professor of CSE department has hosted the prize giving ceremony. From the organizers, Nashid Shahriar, student of CSE department thanked everyone for their support to make the festival a grand success.
BUET NCPC was held on October 23 and 24, 2008 on the occasion of CSE Festival 2008 and jointly sponsored by Microsoft and Eyeball. Top 52 selected teams from 30 universities including BUET, Dhaka University, Jahangirnagar University, Rajshahi University, Rajshahi University of Engineering and Technology, Khulna University, Khulna University of Engineering and Technology, Shahjalal University of Science and Technology, North South University, BRAC University, East West University, International Islamic University of Chittagong etc. contested in the NCPC. BUET Falcon team has secured the first position after solving 6 out of 9 programming problems in the NCPC. Tanaeem M Moosa, Md. Mahbubul Hasan, and Shahriar Rouf Nafi were the contestants in BUET Falcon team. Math Olympiad was held on October 23, 2008 and sponsored by Microsoft alone. About 200 participants from 20 different universities participated in the Math Olympiad. Md. Mahbubul Hasan of BUET has won the first prize in Math Olympiad.
To encourage the innovative ideas of CSE students and to excel their works a project show was arranged as part of the CSE festival on 29th -30th October and sponsored by Grameenphone. In the project show, total 43 projects from different universities including BUET, Dhaka University, Rajshahi University, North South University, BRAC University, Northern University and Asia Pacific University have participated. Among these 43 projects, 30 projects were in the software category and 13 projects were in the hardware category. Dr. Md. Mostofa Akbar, Associate Professor, CSE Department of BUET led the judge panel for the project competition. Other members of the panel were Md. Abdus Sattar, Assistant Professor of CSE Department BUET, Md. Mahbob Alam of Relisource, Dr. Ashfaqur Rahman of AIUB, and Masud Khan from Intel Corporation, USA. In the software category, Enterprise Communication System from BUET secured the 1st position and Low cost GPS-GPRS based Tracking System from NSU and Pen Fight from BUET secured the 2nd and 3rd positions respectively. In the hardware category, Optical Mark Reader from BUET secured the top position while Remote Controller for PC from BUET and Micro-Controller Based Wireless Crane from BUET won the 2nd and 3rd prize respectively.
A career and research talk was held on October 29, 2008 in BUET auditorium. Career and research opportunities of CSE students in the country and abroad were discussed in the talk. How to get ready for the job market and higher study and research was also discussed in the talk. Grameenphone has sponsored the research and career talk. Frode Stoldal, Chief Information Officer of Grameenphone has talked on behalf of telecom sector. Microsoft and M&H Informatics have participated in the career talk from the software industry. Dr. M. Kaykobad, Professor CSE Department of BUET and Dr. M. Mahfuzul Islam, Assistant Professor CSE Department of BUET talked on the research and higher study opportunities. Syed Ishtiaque Ahmed, student of CSE department delivered a presentation by highlighting the prospects of CSE and Focusing CSE department BUET.
A souvenir is going to be published on the occasion of CSE festival. For the festival rally Samsung through IndexIT sponsored T-shirts and Teletalk sponsored Caps for the students of CSE department.
The purpose of CSE Festival was to promote good relations among the BUET CSE department and other universities and industry. The festival was successful with its view of co-operation. BUET CSE students manifested their excellence in co-curricular activities besides their glorious academic background with the support from teachers, and as a signature produced this "CSE Festival 2008".
Posted on: [2008-11-01]