BUET team is the runners up in International Robotics Challenge Grand Finale: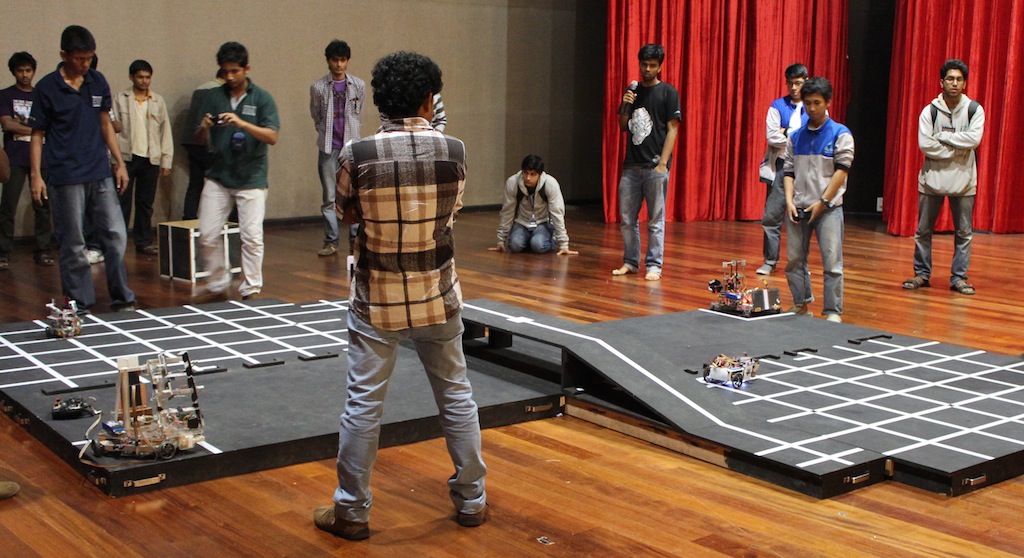 The Department of CSE, BUET team representing Bangladesh in the International Robotics Challenge (IRC), Techfest, IIT, Mumbai, India has been the runners up after defeating all other teams except the three times defending champion Srilankan team.
Techfest is recognized as the Asia's largest science and technology festival. One major part of this Techfest is IRC Grand Finale. The qualifying rounds for IRC were held in - Bangladesh, Egypt, India, Indonesia, Pakistan, Sri Lanka, Thailand, and UAE. Top two teams from each of these country legs got direct entry into the grand finale. Other countries could participate through a qualifying round during the Techfest. In the grand finale, 16 teams from eight countries was divided into 4 groups and contested with one another in the round robin fashion.
The contest challenge was same for each game. Each team had two robots, one manual and one autonomous and they had to perform a set of tasks. If both teams can complete the tasks, the winner was decided based on timer required.
In the group round, BUET team defeated the France, Egypt, and Nepal's team but got defeated to one of the Srilankan teams and became group runners up. In the quarter final, they defeated the other Bangladeshi team (from IUT) with ease. The semifinals were nail biting where the BUET team defeated the Srilankan team by a margin of 1-2 seconds. In the finals they had to face the other Srilankan team who are the Champion for the last two years. The opponents' hardware was quite better and though we could do all the works, they finished earlier than BUET and became the Champion.
We hope the winning journey of the BUET robotics team continues in future. We congratulate the team members Mr. Md. Jahidul Islam, Mr. Mahfuzul Islam and Mr. Alif Ahmed. We also congratulate Dr. ASM Latiful haque, Dr. Monirul Islam, Hasan Shahid Ferdous, Nashid Shahrear, and Md. Mustafizur Rahman who constantly monitor and supervise the robotics group in the department of CSE, BUET.
Posted on: [2013-01-14]